October 5, 2012
Did you know Maxwell Fabrics carries drapery hardware? We do!
Maxwell Fabrics has teamed up with one the biggest manufacturers in the North America to ensure quality in both style and function with six distinctively modern classic collections.
Ice Collection - Translucent Opulance
The Ice Collection is designed for the modern-minded as a lighter more affordable option to glass. Finials are translucent beauties in understated and glamorous styles that pair perfectly with clear or stainless steel accessories for a high-end look. Clear Acrylic also offers a new slant on contemporary hardware with the smooth look of glass.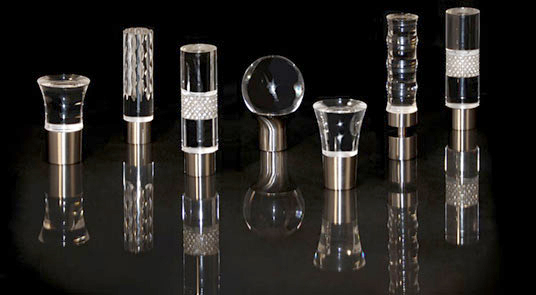 Manhattan Collection -Urban Flare
The Manhattan Collection is a clean, streamlined collection of modern hardware epitomizing the long lines and slender form of urban architecture.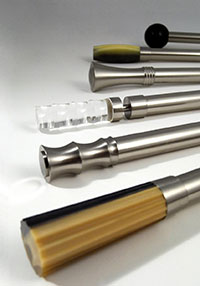 Tuxedo Collection - Dressed to Impress
The Tuxedo Collection is an eclectic line of sleek and stylish finishes, utilizing a variety of materials such as beach-wood, steel, and acrylic to create a unique and versatile collection.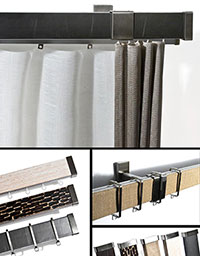 Platforms - Stylishly Sexy
The Platforms collection combines unique materials with sleek style to add sophistication and practicality to any window treatment. Textured wood, linen, and faux leather rods adapt to contemporary or traditional settings with ease.
This collection boasts a cutting edge traverse system, for a smooth continuous draw with C-rings for an environment demanding stainless steel accents or the more traditional traverse glides for pure minimalism. Platforms offers the best in form and function for any decor.

Cabana - Take the Indoors Out
Add style and functionality to your bathroom, patio, boat, or spa with this elegantly simple collection of rust-proof stainless steel hardware and grommets. This collection is also ideal for outdoor commercial spaces such as restaurants, resorts, and nightclubs. Maxwell Fabric's corrosion-resistant drapery hardware collection is designed to withstand most natural weather elements, salty ocean air and high moisture interiors.
To see the full collection, please visit www.maxwelldraperyhardware.com
(Sorry, Maxwell Fabrics only distributes our hardware in Canada)