NEW YEAR, NEW HUES – 2021 COLOR TRENDS
January 13, 2021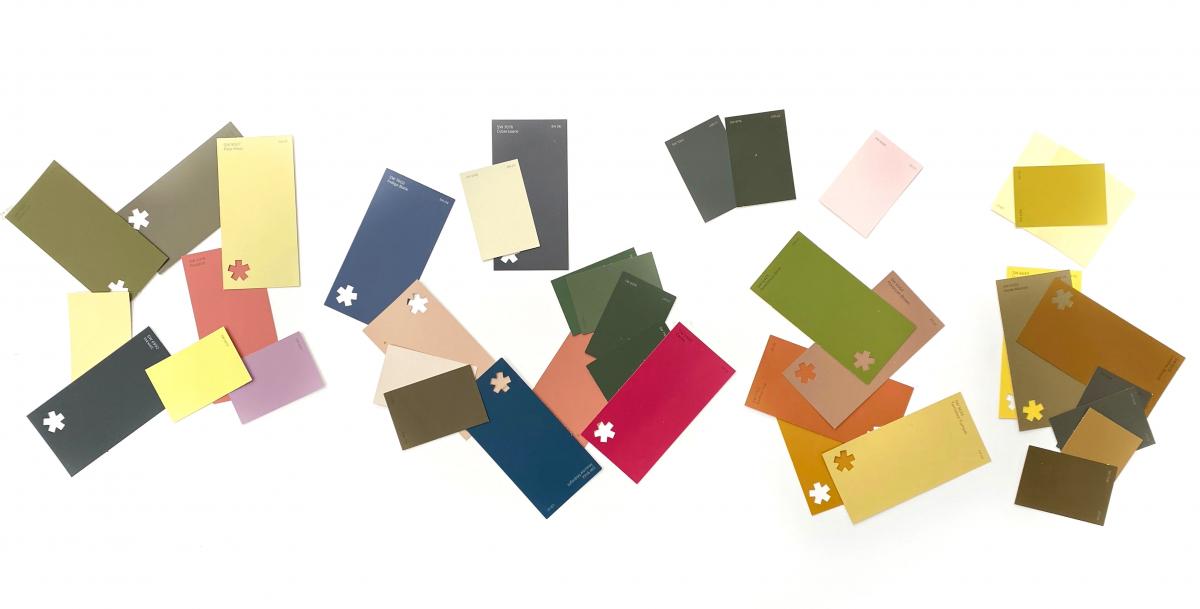 These days more than ever, we are trend-focused and exposed to a plethora of available mediums that influence us. Drawing from curated social media aesthetics to wabi-sabi reality, Design Director Zoë Anderson shares her thoughts on forecasting, trends, and the "color of the year":
"What was once a true trend forecast has really gone beyond its original scope. I think we've seen this the last several years, and it's even more obvious with 2021's selection from Pantone. The kind of intent behind the Pantone color of the year was originally much more of an evidence-based, educated projection of the colors that were going to be the most used and the most popular across a few streams. Pantone's prediction originally would encompass all the way from package design through to fashion, (couture to fast fashion mass market), and then into interiors as well as your FF&E: Furniture, Fixtures and Equipment, which of course includes textiles.
Originally, the predictions related to the design industry as a whole. Now, we are seeing that Pantone is calling these color announcements the color that "defines" the year establishing that this all-encompassing color is taking into account socio-economics, new technologies, worldwide events like the Olympics, the state of the environment, and beyond. It has really changed in its scope in my opinion. And with this shift, the specific relevancy of these timely color trend predictions are not as apparent as it used to be 10 years ago.
I'd like to share some colors that I have noticed gaining popularity in the design realm. Some, having been adopted already, are trending upwards; some might be a bit more aspirational.
Using the two Pantone colors as a jumping-off point, Yellow is certainly a color on the rise - just perhaps in a different saturation level and undertone than the classic primary yellow.  Think of shades like Buttercream and Chalk. Moving on to Grey, I look to variations on Sherwin Williams' Urbane Bronze, which is their color of the year. The key to a versatile grey right now is brown-based tones and a green undertone.
Which leads us to Brown. We're seeing shades of Kalamata, Peanut, Persimmon, and updated takes on Clay, which we have seen grow in importance for the past several years now.
Pink, still on-trend, is now seen specifically with a purple inflection. Colors like Cerise and Calamine, and the presence of a brown and blue undertone take prominence over the blush pinks of 2015.
A little down the wheel we find Blue. Benjamin Moore's color of the year is Aegean Teal which is soft, soothing, and basically a spa blue. It's important to note that they're predicting paint colors specifically. However, speaking holistically in terms of color trends, the green undertone is the important takeaway for me.
Lastly, I'd like to touch on Green and it's recently notable presence. Green undertones, green everything! Ever-popular as a subtle undertone in neutrals, the whole gamut of greens is more visible in our daily lives than ever before. Fava Bean, Palm Leaf and Blackened Olive (to name a few of the more saturated shades) are gaining relevance in our homes. Green is now seen as a sophisticated color that pairs well with the color trends mentioned above; whether it be shades of pink, brown, or whatever your pairing of choice, Green effortlessly lends a natural, biophilic presence indoors."
Missed her talk live on Instagram? Catch it here on YouTube!